At SUVSWD we understand the importance of recycling and the environment, we dedicate our efforts to make recycling more accessible for you. In order to do recycle the right way recycling must not be mixed with garbage. Below is a list of items that can be recycled.
Paper and Card Board

Plastic

Aluminum and Tin Cans

Junk mail
Newspaper
Books
Magazines
Cereal boxes

Clean and empty:

Milk jugs
Water/soda bottles
Shampoo and detergent bottles

Clean and empty:
We do encourage you to bring your recycling items to the Transfer Station. See our Fee Schedule for pricing.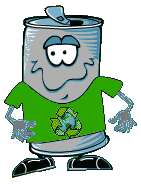 We can also help Schools set up recycling programs in the near future for more information call us at: (801) 489-3027 ext. 0